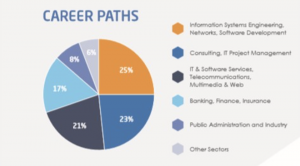 Every Year Efrei-Paris conducts an Employment Integration Survey of the graduating class in order to track the success of our engineering students.
Average starting salary, excluding bonuses: €44,462/year
Average number of months before finding 1st job: less than 3.2 months
Destination of our graduates :
6% of our graduates launched their own business
4% went on to do further studies (Top Management School, Ph.D., etc.)
20% of graduates work internationally
98% of graduates have full-time permanent contracts
What Corporate and Tech Industry Leaders Say About Efrei Graduates:
Scientifically and technically competent
Professional and industry ready
Entrepreneurial and innovative
Internationally experienced
"What distinguishes Efrei graduates is their ability to combine their advanced technical skills with open-mindedness and international experience." Head of Human Resources, Capgemini.
"As their graduates have a solid technical foundation, the ability to work autonomously and grasp the importance of customer relations, Efrei is an indispensable partner." Campus Manager, Microsoft.